Welcome!
Thank you for visiting my speaking page…
Are you looking for a speaker for your next women's event?
I'd love to talk with you about how I might serve you and your audience.
I've been in ministry for 30+ years and have a passion for equipping women to walk deeper in God's word, walk out of their doubt, shame, and fear, and walk boldly into their fierce calling. I am also an author, discipleship mentor, lay counselor, and host of the award-winning Fierce Calling Podcast.
As a presenter, I use both personal and biblical stories with a dash of humor to keep your audience engaged. My desire is for your women to leave each event inspired by personal and biblical stories, encouraged by God's word, and equipped with practical action steps to make positive changes in their lives.
I am committed to providing a great experience for your event, both on and off-stage. As your speaker, I will be one less detail you'll need to manage!
Reach out to me at doris@dorisswift.com, via my contact page, or at womenspeakers.com and let's have a chat about how I can serve you and your women.
I am available for keynotes, workshops, conferences, and retreats for audiences of all sizes.
I'm excited to speak at your next women's event!
Check out my speaking video and speaker information sheet below…
Signature Speaking Topics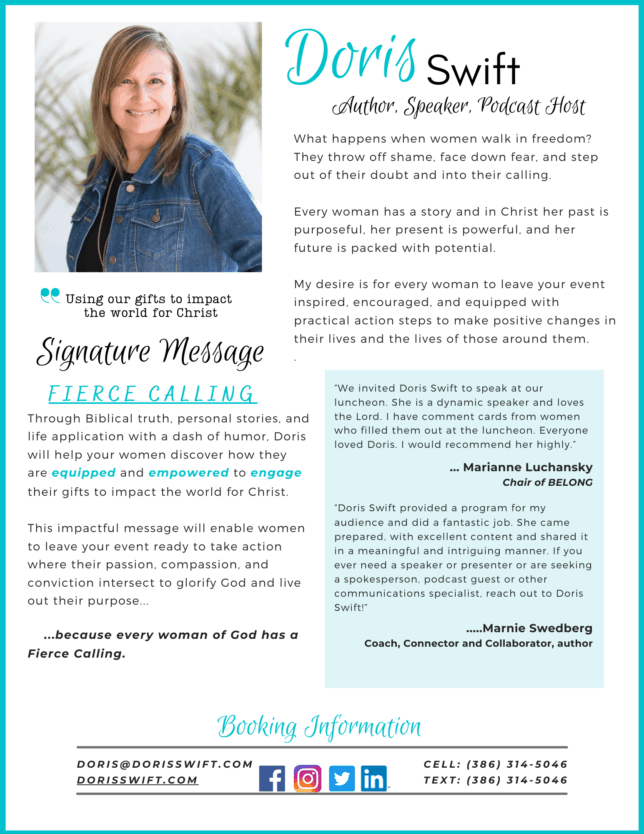 Imagine your women walking away transformed through one of these messages at your next woman's event:
Fierce Calling: Equipped, Empowered, Engaged
Five Fierce Truths About You – Identity in Christ, Confidence through Christ, Courage, Gifts, Calling
Surrender Your Joy Stealers and Rediscover the Jesus Joy in You
*Each message can also be used for multi-session retreats & conferences
More About Doris …
Doris Swift is an author, speaker, and host of the award-winning Fierce Calling Podcast. In ministry for over 30 years, Doris is passionate about equipping women to walk deeper in God's word, walk out of their doubt, and into their fierce calling.
Her grace story includes experiencing a teen pregnancy and walking in freedom from shame when she met Jesus. Now she helps women take action where their passion, compassion, and conviction intersect, so they can use their God-given gifts to impact the world for Christ. She shares this message and more at women's events, conferences, and retreats.
Doris is on staff at her church, serving as office manager, lay counselor, and discipleship mentor. She also served as Women's Ministry Director and has led numerous women's Bible studies. She is a graduate of Liberty University and holds a Bachelor of Science in Interdisciplinary Studies in Christian counseling, psychology, and business. She resides in Central Florida with her amazingly supportive hubby Brian, is mom to two extraordinary grown-ups and their wonderful spouses, and Gammy to six beautiful grandkids.
Doris loves connecting with new friends and speaking at women's events, retreats, and conferences.
She is available for keynotes, breakout sessions, and workshops.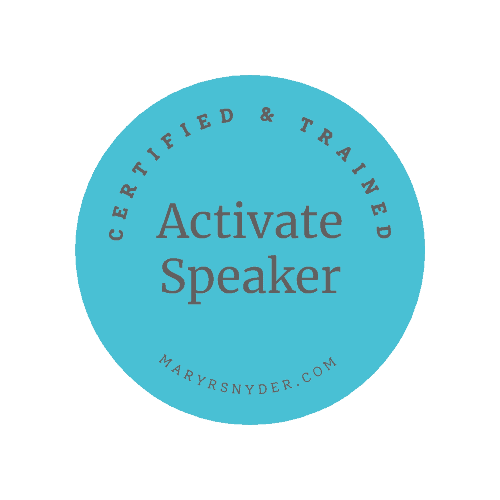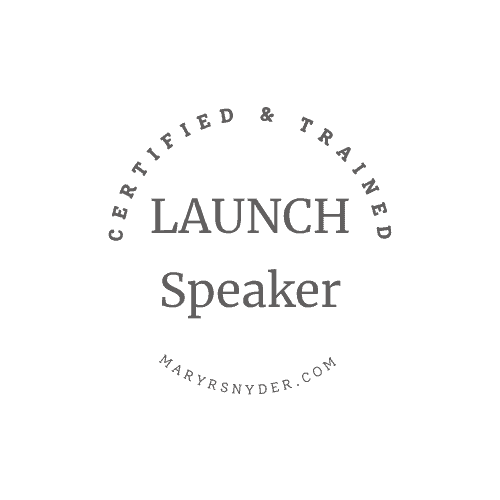 Testimonials …
"Doris Swift provided a program for my audience and did a fantastic job. She came prepared, with excellent content and shared it in a meaningful and intriguing manner. If you ever need a speaker or presenter, or are seeking a spokesperson, podcast guest or other communications specialist, reach out to Doris Swift!" – Marnie Swedberg, Coach, connector and collaborator; author of 13 books, international keynote speaker and #1 ranked radio show host.
"Doris is a wonderfully gifted speaker! Our ladies loved her and her message. Very engaging, inspiring and on point! She was great to work with too." – Mandy Hood, Executive Conference Director
"Doris was warm and friendly and easy to listen to. Her presentation was well thought out and followed a plan and purpose. She spoke directly to our ladies retreat theme and share personal insights and experiences. Our ladies enjoyed her presentation and came away with many thought provoking points. We loved having her." – Judy Chitwood, Conference Host & Pastor's Wife
"Doris spoke at an Online Women's Conference that our organization hosted. She did a fabulous job. She was relatable & genuine. I highly recommend her." – Ruthie Painter, conference organizer

"We invited Doris Swift to speak at our luncheon. She is a dynamic speaker and loves the Lord. I have comment cards from women who filled them out at the luncheon. Everyone loved Doris and the way she made you focus on Jesus when relating about different topics when she spoke. I would recommend her highly." – Marianne Luchansky, Chair of the BELONG Christian Women's Community Outreach Group.

"DORIS!!! You were amazing this morning!! Thank you so much for your word that you shared. I loved every minute of it. God truly has put you on this path, has His hand on you, and has already done great things with you! I am so blessed to know you, and to have had the privilege to hear you this morning…" – Estera Delavan, Little Sprouts Mommy & Me Leader

"All I have to say about today is WOW!! I got such JOY today. You totally ROCKED it today. You blessed me so much. I just love getting CONFIRMATION for our LORD AND SAVIOR…" – Shannon Verderosa, Women's Ministry Team Member

"Bagels & Blessings was amazing I loved the message. The "doors" really spoke to my life and the song, oh the song, was crazy incredible! The anointing was so thick when you sang…" – Lorrie Creamer Blandy, women's ministry event planner

"Doris, thanks so much for all the love you put into the event. It really was amazing. God has truly given you a gift of inspiring women and we have all been blessed as recipients of that gift! And I have to tell you that Theresa and I were discussing how many palm trees are out there…" – Tammy Shaver, event attendee
"Doris was the fan to our flame at todays online Women's Conference. I left on fire for the Lord. Excellent teacher ❤️ Excellent Speaker ❤️ Christ was definitely at the center of her message." – Ramona Torres – founder of Girlfriends Talking
"Doris' talk at the Encourage Conference for women (online) was relatable, timely and full of wisdom. The Holy Spirit real used her gift of teaching today. I was blessed to be in attendance." – Yvonne Marie, M.ED. , Speaker, Author