Ever feel like you've taken a backseat in life? Are the gifts God gave you still wrapped, or perhaps wrapped up in life's messiness?
Here's a word about backseats, spiritual gifts, and those "wardrobing" girls who wear clothes once and return them…
I love my grandkids and I especially love their funny anecdotes shared from the backseat. While driving our youngest to Kindergarten one morning, I noticed an elderly neighbor moving a bit slower than usual. I mentioned we should pray for her and his reply had me in hysterics.
In a matter-of-fact tone and meaning no disrespect, he said, "That's what old peoples do, they move slow–like a sloth." Five is such a great age.
Along with the joy of having grandkids in the car, comes the sticky candy wrappers and drink spills. I know what you're thinking, why am I allowing candy and drinks in the car? I don't always, and it happens less now that they're older, but Gammy loves to bless in spite of the mess.
Sometimes I sit in the backseat to see what my passengers will see. I clean up the messiness because picking up friends in their nicely laundered white capris will not go over well if they sit on a squished Tootsie Roll.
One day as I was performing a backseat inspection, a thought occurred to me. What if we woke up tomorrow morning and our cars were gone, but in their places were brand new ones? Pretty sweet, right?
What would we do?
Consider this: What if we got up every morning thereafter and slipped into the soft leather backseats of those cars while they sat in the driveway going nowhere?
Everyday. Single. Day.
Besides our neighbors thinking we've lost our last bit of sanity (and robbed a bank to buy those Ferraris or whatever) we wouldn't get much accomplished. And we're the church.
Just as we can't drive our cars from the backseat, neither should we sit in the backseat of our lives and miss the true plans God has for us.
God beckons us–He calls us to slip into the driver's seat because He wants to send us somewhere. He steers us in the right direction and fills our tank with fuel—Holy Spirit fuel.
The Holy Spirit is not the third wheel and the Holy Spirit is not just the Spirit of God but He is God the Spirit. Acts 2:38 tells us receiving the Holy Spirit is a gift. In turn, the gift of the Spirit distributes gifts to us.
---
Do You Know What Your Spiritual Gift(s) Are?
As a believer, you have at least one. You may have an idea or already know, but here is a resource for you. I'm sharing this handy tool from our church website for identifying your spiritual gifts, your heart (passions), your abilities, your personality, and your experiences. Your S.H.A.P.E.
Here's a tip: As you take the assessment don't overthink your responses. Your first response is usually the most accurate. Your responses should reflect your current reality, not how, where, and what you think you should or want to be.
It is also important to remember God can use us in areas outside our gifting. For example, we may not have the spiritual gift of teaching, but that doesn't mean we will never be called to teach.
In the book, What's So Spiritual About Your Gifts? Henry and Mel Blackaby share this valuable insight:

"Spiritual gifts are bestowed on believers according to the purposes of God and distributed by the sovereign wisdom of God. Our spiritual gifts never belong to us; they're an expression of the Holy Spirit doing the Father's will."
Blackaby then cautions us against putting too much stock in spiritual gift assessments.
Why?
Because we may be tempted to rely more on the results than on God Himself. The danger is, while the assessments may be great for understanding areas of strengths, weaknesses, and how God has used us in the past, they cannot determine how God can use us in the future.
And although there is a specific list of spiritual gifts found in Scripture, two people with the same gift will use it differently. We are all unique. Think of it this way–while there are thousands upon thousands of singers in the world, no two singers will sing the same song exactly the same.
And we cannot trade, return, exchange, or lose our God-given gifts because "God's gifts and His call are irrevocable" Romans 11:29.

That Reminds Me of That Crazy Wardrobing Thing…
You know those girls who purposely buy clothes to wear to an event, and then return them? Some refer to it as wardrobing and besides the fact that it is totally wrong, I could never pull it off. I would blab out the truth right there in the return line. And if by some miracle I was able to keep from blabbing, my face would tell the tale.
The word "liar" would suddenly appear on my forehead like the writing on the wall at Belshazzar's feast in Daniel 5.
I just know my eyes would give me away as my gaze traveled back and forth between the store associate's eyes and the coffee stain I tried blotting out at that wedding. No way, friend, I couldn't do it.
Since our gifts are irrevocable there's a no-return policy. We wouldn't want to give them back because they are meant for giving back.
The gifts God gives are beautiful, not because they adorn us, but because they embellish our calling and that's a beautiful thing.
Click To Tweet
Have you pulled the ribbon to free your gifts?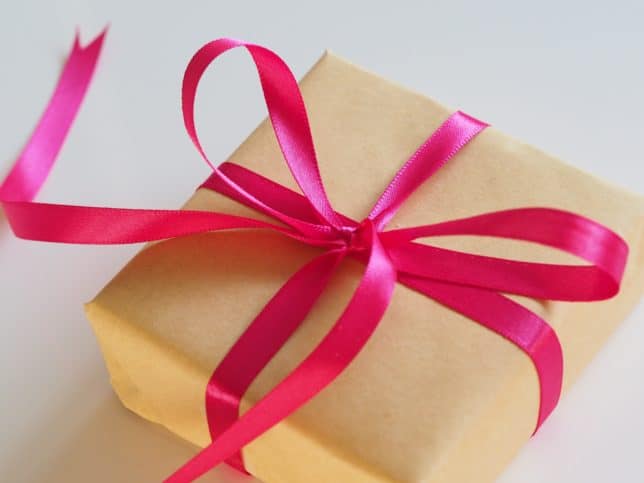 Call to Action
Take action and answer God's call. What is your passion? Your call is where your passions and convictions intersect but don't allow that to intimidate you. Over and over when saints of old declared doubt in their calling, God assured them not to be afraid–that He would be with them. And He is with you.
You may not be called to part the sea, but perhaps your calling right now is wiping noses of sweet preschoolers as the love of Jesus overflows from the light within you.
Maybe you think your calling could never compare to leading captives out of Egypt. Then why not get involved in an organization that fights human trafficking, like the A21 Campaign, because isn't that the same thing?
I used to think a calling was meant for missionaries who traveled across oceans. But we all have a mission. Knowing Jesus and making Jesus known. We are all called to love and we are all called to serve.
That can be anywhere we go and right where we are.

"I therefore, a prisoner for the Lord, urge you to walk in a manner worthy of the calling to which you have been called, with all humility and gentleness, with patience, bearing with one another in love, eager to maintain the unity of the Spirit in the bond of peace."

Ephesians 4:1-3 (ESV)
May I Pray for You?
I pray the Lord strengthens you as you walk in a manner worthy of your calling–that you not be hindered by doubt and fear, but that you will hear God's voice and answer His call on your life. I pray God gives you the wisdom to know when He is calling you to be still and when He is calling you to move, according to His will and plans for your life. I pray you always experience the abundant life you were born to live, and day by day, being sanctified, that you would find great joy in being the woman God created you to be. I ask all these things for you in Jesus' name. Amen.
Peace & Love in Christ,
Doris
Our calling calls for sharing the hope we have. Download this free handy resource with scriptures and simple tips for sharing your faith.