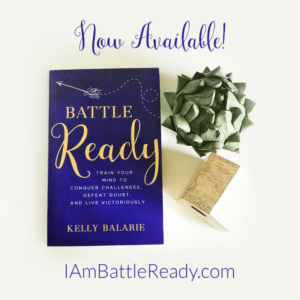 Hi Friend!
I love to share about books that inspire me and today is release day for a book that has literally been rocking my world!
I would love to invite you to train your mind to conquer challenges, defeat doubt, and live victoriously! Kelly Balarie's new book Battle Ready: Train Your Mind to Conquer Challenges, Defeat Doubt, and Live Victoriously is now available. I've been honored to be on the launch team with an early copy, but now you can get yours. We're in this fight together.
Get your book now at IAmBattleReady.com or anywhere books are sold!
Much Love,
Doris