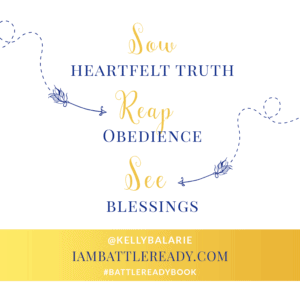 Hi there, Friend!
Ever feel like the battles of life are coming at you from every direction? Me, too! How about some straight-up truth to encourage you in whatever you are facing today?
I'm excited to share an amazing guest post by my friend, Kelly Balarie. She is a speaker, blogger, and the author of Fear Fighting and Battle Ready.  As a member of her Battle Ready book launch team, I was blessed to read an advanced copy.
Girl, let me tell you!
I struggle with motivation when it comes to working out and eating right, but this book inspired me to change my thinking to positive, godly thoughts about my food choices and exercise.  I didn't say "diet & exercise" because I don't like any word that has the root word "die" in it. Can't be good, right?
Of course, struggles come in all shapes and sizes (no pun intended) and we need to be equipped for battle, especially when those hard moments in life come along.
Y'all this is going to bless you!
5 Battle Tools To Help In Hard Moments
By: Kelly Balarie
She didn't so much as say hi to me. In fact, even worse, she walked right past me, looking the other direction. She pretended I wasn't there. Hmph!! After all I've done for her. After all I've given her. After how I've gone out of my way to love her. 
Now I'm the one left looking like a crazed waving-at-the-air fool.  Like – an idiot.
I humph at her husband along the way to my church seat. Silently, I critique her in my mind, She's rude. Before not too long, I get side-tracked by my own thoughts: Everyone always hurts me. Like that boy, I asked to dance in 4th grade. Like those girls who circled up to whisper about me in that damp locker room. Like the group of women who act like they're far better than me.
I'm supposed to be listening in church, but who can listen, thinking about all this, all them?!
Here, I find myself, in the heat of a horrible battle. You can always tell if you're in the heat-of-a-battle. Almost instantly, your soul-crushing problem magnifies 100x larger than your promise-keeping God. Suddenly, you're standing weaponless, in all-out combat within your own mind. Hardly able to win.
Ever been there?
I've struggled through a lot – through massive health-scares, depression, an eating disorder, financial debt and relationship-severing dramas. Battles. Huge, hard-fought battles, loaded with momentary decisions of pain, struggle, and uncertainty.
I remember the time:
The doctor returned to the room with the clipboard saying, "You really might have Mulitple Sclerosis." I thought: How do I keep my thoughts close to God with this kind of news?
My colicky newborn made me pace my hallways 24-7. Sleepless, hardly-thinking and powerless to change my health-situation, I didn't know what to do. I thought: How do I still love people when my whole life is unraveling?
A family member called me to say I really should get on setting up long-term care for myself. I thought: How do I deal with the fact all my dreams will now look different than I thought?
Through all this, I realized, real wisdom is having a battle-plan. tweet 
Let's talk about Christ-centered battle-plan preparedness. Begin by asking yourself: What am I currently facing?
Identifying your main struggles (resentment, regret, trauma, unforgiveness, bitterness, anger, fear) is to allow God to help you win your battle. For example, for me, underneath that issue with the girl, was an old war full of rejection, humiliation, and abandonment from years past. Underneath, were old battles I'd lost – because they were left unaddressed. Therefore, they left me with resentment towards God.
Seeing our battles for what they are, gives us a clear-cut strategy to fight – and win.  It also removes all the pent-up offenses that, like plaque, cover our heart.
What about you? Do you emotionally respond to happenings set before you or do you wisely act based on God's Word and promises?
Today, you can fight your battle a new way. Consider:
Asking God what feelings of fear, worry, anger, resentment, neglect and hurt He desires you give to him.
Giving those hurts to Jesus, by saying, "Jesus, I am not meant to carry these. Forgive me. They've hurt me for far too long. I know and believe you have peace, joy, life, and freedom for me as I give you these things."
Blessing any women who have hurt you.
Reframing your moments of hurt. (Example: when she passed by me quickly, she was probably was in a rush, she might have had something to do or she lost in thought)
Returning to a heart of love. (Example: Thank you God that you love me and I can love others. In fact, I can love the very person who hurt me by ___.)
This is the start of being Battle Ready. There truly are practical insights, wise biblical instructions, and truths that can help you rise above the mayhem of trials and hardships. You can find the light of Christ and step into all God has for you.
The victory belongs to the Lord. Isn't it time you began to make room for it?
About Battle Ready: Train Your Mind to Conquer Challenges, Defeat Doubt & Live Victoriously 
"The best time to be strengthened against the Enemy's tactics of doubt, disappointment, and devastation is before he makes his first move toward us. We all desperately need the biblical guidance and preparation found in Battle Ready!"
Lysa TerKeurst, New York Times bestselling author and president of Proverbs 31 Ministries
Battle Ready is a hands-on scriptural plan that teaches you twelve easy-to-implement, confidence-building mind-sets designed to transform your thoughts and, therefore, your life. You'll gain practical wisdom, like how to
· make new habits stick in just five steps
· disarm the seven most common attacks that plague women
· exchange self-limiting thoughts for purpose-driven, love-releasing thoughts
· implement thirty-second mind-lifters that deliver peace
· create boundaries so you live life full of what matters 
Buy Battle Ready here: https://amzn.to/2l5qQrw
 To get Battle Ready freebies – printables, devotional reminders, a customizable daily Battle Plan and the "Find Your Battle Style" quiz, visit: www.iambattleready.com  
To order the companion Battle Ready Daily Prayer Journal that will help you practically change your thoughts, then your life, visit:
Kelly Balarie, an author and national speaker, is on a mission to encourage others not to give up. Through times of extreme testing, Kelly believes there is hope for every woman, every battle and in every circumstance. She shares this hope on her blog, Purposeful Faith, and on many writing publications such as Relevant, Crosswalk, and Today's Christian Woman. Kelly's work has been featured on The Today Show, 700 Club Interactive, Moody Radio and other television and radio broadcasts. When Kelly is not writing, she is chilling at the beach with her husband, a latte, and 2-toddlers who rightfully demand she build them awesome castles.