Podcast: Play in new window | Download (Duration: 42:26 — 29.2MB) | Embed
In today's episode, Listening for God's Direction, I'm talking with my friend Alisa Hope Wagner.
Alisa is a wife, mom, and award-winning author and today she shares about listening for God's voice, what happens when we answer His call, and how she wound up on not one but two reality TV shows!
I know what Alisa has to say will encourage, inspire, and challenge you, so listen in while I have a chat with Alisa Hope Wagner.
(Friend, if you're viewing this post via email, the podcast player to listen to this episode can be found here)
Some Favorite Quotes from the Show
"God Sees who we will become." – Alisa Hope Wagner
"God has a breadcrumb path of resources just for you." – Alisa Hope Wagner
"God Sees who we will become." – Alisa Hope Wagner
Click To Tweet
"God has a breadcrumb path of resources just for you." – Alisa Hope Wagner
Click To Tweet
Thanks for Listening!
I hope what Alisa shared spoke to your heart and encouraged you to take action where God is calling you to serve. Because like Alisa said, our highest calling is to serve and Jesus showed us how to do it well.
We may doubt we're the girl for the job,
but God sees the girl He created for the job.
And He won't leave us out there alone, He brings resources and relationships to meet our every need.
Connect with Alisa and Grab her Books!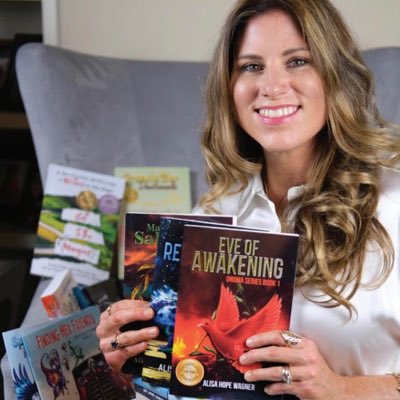 You can connect with Alisa at alisahopewagner.com, on Facebook, Twitter, and Pinterest. Find her all her books on Amazon and be encouraged by the words God has inspired her to write.
Stay awhile…
I would also love to connect with you, so reach out to me on my contact page at dorisswift.com.
I invite you to join my community of women who receive inspirational messages, helpful resources, and updates on podcast and book news!
When you join my email list for free, I'll send you this free gift…
Grab it here: Simple Tips for Sharing Your Faith!,
This free resource helps you share the gospel, because just like that story of the girl who led a lost soul to Christ who in turn led millions of lost souls to Christ, we never know the impact sharing the gospel with just one person can make.
There's a hurting world out there and people need to hear about the hope they have in Christ.
They need God's freedom, peace, and joy…
Every lost person matters to God and He wants them found.
But life can be hard sometimes and we may struggle with finding joy in the midst of our circumstances.
Friend, that joy is still there and we just need to be reminded to reawaken to the Jesus joy in us.
What Threatens to Steal Your Joy?
If burdens are weighing heavy on your heart, sharing what threatens to steal your joy can be so freeing.
I'll be talking more about that soon and offering a free, 6-day guide in how to surrender your joy stealers to God and live the joyful life you were born to live.
Truth is, your joy cannot be stolen from you, but life's circumstances can make it feel like that way sometimes.
But God wants you joyful and He is faithful to do it.
I hope you'll join me next time when I invite another woman who is taking action where her passion, compassion, and conviction intersect.
Until then friend, have a blessed week and I'll talk to you soon.
Blessings!
Doris ♥